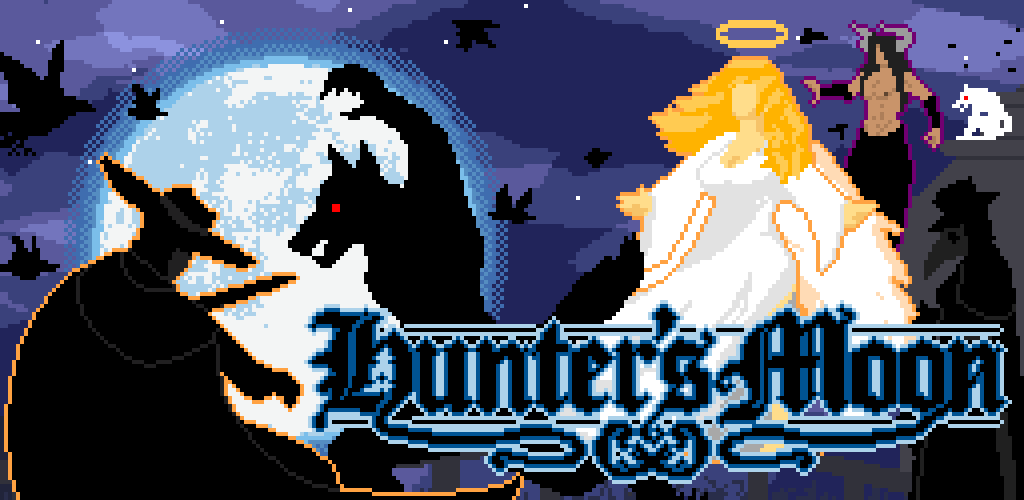 Hunter's Moon
A downloadable game for Windows
The Windows version of the android game, Hunter's Moon!
Hunter's Moon is a game I originally designed for Android devices in early 2017. Since then I have worked on several updates for the game, and now created a windows version. I created the game entirely by myself (music, graphics, programming), aside from a few CC0 sound effects used in the game.
This is my first release on itch.io. If you're a fan of werewolves, endless runners, or pixelated adventures, I hope you enjoy Hunter's Moon!
(The trailer linked was created for the android version which was originally on Google Play. I might create a slightly different trailer for the Windows version at some point in the future.)
Take on the role of a lone werewolf hunter. Leap across the rooftops of an ancient city in this infinite runner, and use your sword to vanquish the evil werewolves who await you. Collect gold along the way, always aiming to improve your score. Don't fall into the forest below, or you'll have to navigate a gauntlet of deadly traps.
Discover secret areas and items hidden throughout the land! Once you've unlocked an item, you'll be able to spend your leftover gold from previous runs to buy it. Don't let the werewolves defeat you, or you will have to begin your hunt again.
If you're looking for the android version, unfortunately it is no longer available on Google Play (I didn't keep it up to date with all of the constantly changing policies in the app store). I may add the APK file to the downloads on here for people who want to manually install the game on their phones in the future.

I'm busy working on other projects, including a new video game project, "Lost Battles of Ethos" with my twin Robyn. Follow me if you like my work and want to be notified when it comes out! :)
If you're so interested, you can also buy the soundtrack from my bandcamp page.
Known Issues:
I had some trouble running the game on a 4k display. Temporarily changing the screen's resolution to 1920*1080 solved the issue.
Versions earlier than 1.0.0.2 may run slowly on Windows 10 and Windows 11. This should be fixed in version 1.0.0.2.
Download
Click download now to get access to the following files:
(Latest Release) Hunter's Moon 1.0.0.2.exe
(Older Version) Hunter's Moon 1.0.0.1.exe
22 MB
(Older Version) Hunter's Moon.exe
22 MB
Comments
Log in with itch.io to leave a comment.
Its realy awesome game,and it need some practice to actualy play this game!Keep up the good work!
game started out really good.


... yep, and that was the game.
basically an endless runner where you collect coins while running, occassionally fight and kill a werewolf. amd it repeats. grinded myself 100 coins to buy the first blessing. could glide a bit. other blessings are locked so far.

might need to kill 10 or 20 werewolves. but I dont have the patience for that, too repetitive for me
I can certainly understand the feeling of repetition-- In a sense, the android version is better as just a thing to do on the bus or to kill time, as it doesn't demand too much attention for too long. (although, personally, I've gotten sucked into playing it for very long periods of time, lol)
There's some pretty cool unlockable stuff, but most of it doesn't show up until after 10 werewolves and then it's up to random chance whether you'll find it. It's pretty exciting when you finally see something new, though!
Got to love these classic retro look and feel, eh?

Really fun game for fans of the occult who want to kill some time!
This was a really fun letsplay. I really enjoyed it!
I don't want to spoil too many of the game's mechanics (unless you genuinely want to know), but I ought to say that if you can kill 10 werewolves (after your comment about reaching stage 6), things get a little more interesting :)

The ultimate goal is to kill 100...
Actually this game and watching a minecraft let's play from roosterteeth kind of inspired a song idea I'm working on. It's not really a "let's play" I'll make, but more of a gaming music video. No actual animation, but still using game footage. And the song is going to be a parody.
This game is amazing. Beautiful graphics & music, minimalistic but totally engaging, yet casual enough to play while you chat with friends once you get in a flow state.

I prefer the Android version personally-- it has a Leaderboard feature which is really cool. I recommend that anyone who enjoys the PC version and can access it on Android try that-- I'd love to see more people on those Leaderboards and get some community competition going.
AwooooOOOOooooOOOOoooooOO... ahem
Excuse me. What I meant to say was join me for today's Itch Dot Io indie as we give chase after werewolves in 'Hunters Moon'. Fear not. I don't bite.

Much...
With slick gameplay, an inspired original soundtrack, and retro aesthetic you'll wonder why you ever played any other endless runner.
~Loki

Loved your lets play. Fun. Would love to see more footage if you get further in the game.
Sweet artwork and good, easy to pick-up gameplay. I topped 15 werewolf heads. :)